It's easy to gain weight. Heck, there are lots of delicious temptations all around us! What's different is shedding the unwanted pounds/kgs and keeping them off. Admit it, we all want to eat what we want, but no one wants to be overweight or obese.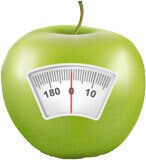 Obesity is one of the leading problems in the world. In the past 30 years, childhood obesity has more than doubled in young children and quadrupled in adolescents and adults.

Obesity is a serious, chronic disease that can have a negative effect on many systems in your body. People who are overweight or obese have a much greater risk of developing serious conditions.

Obesity not only affects physically but also make an impact on social life and the psychological environment as well.
Consequences of Obesity
The consequences of obesity can be split into three groups, physical, psychological and social. You can find out more about these:



Physical Consequences




People who are overweight have an increased risk of:

In addition to the above, obesity can reduce your life expectancy by up to 9 years and many chronic diseases can be prevented by maintaining a healthy weight.
Being overweight can also put extra pressure on joints and limbs, making the activity quite difficult and sometimes any movement at all can be painful.

Psychological Consequences
Studies have shown that obesity can lead to psychological problems such as:
Depression
Anxiety
Low quality of life
Low self-esteem
Body dissatisfaction
Social Consequences
Studies have shown that obesity can lead to psychological problems such as:
More likely to suffer from prejudice and discrimination in some situations (for example employment, travel, schooling, healthcare, retail, etc)

Fewer friends

Lower educational attainment

Lower employment

Obe2Slim Treats:
Obe2Slim, we deal with obesity since 2001, so we know what are drawbacks or side effects during weight loss. An Advance Obesity Care Centre, is an initiative by Dr. Nimish Bamta running the center since 2001, is a Complete Obesity Care Weight Loss Centre Situated in Gujarat(India) at the middle of the towns Ahmedabad, Baroda (Vadodara), Anand, Kalol & Mehsana with facilities for Diagnosis, Treatment, and Prevention of obesity & its Complications.



We use the most effective and safe Medicines to improve impaired hormones, metabolism or diseases generated after gaining weight. We just don't go for Cosmetic Weight Loss / We Search cause of gaining Weight; try to help to relieve in diseases & physical complain developed after gaining weight.